I designed a gi that is a finalist in the Design-Your-Own-Crazy-Ass-BJJ gi contest. If my design gets enough votes, Tatami will make me a one-of-a-kind gi! There are only 13 days to vote. Please help me out!
To vote for my gi design, please join Tatamiwear's facebook group. (clicking on the links will NOT close this page)
Then vote for my design by clicking LIKE.
This gi is very special to me, partly because it is secretly very geeky. That is Angel's tattoo from Joss Whedon's series Angel. I'm a huge Joss Whedon fan, and having this gi made would be the ultimate geek fantasy for me.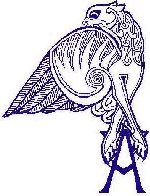 You can read more about Angel's tattoo here.
If you decide to vote for someone else's design, that's totally okay.
If you also pimp this to your friends I would be so thrilled. Via Facebook, Twitter, Livejournal, digg, whatever.
Thank you!