Welcome to Month 2 of Operation Tattered Belt! December is KNEE ON BELLY! Last month was all about Side Control. During this month, Megan and I will be focusing on techniques that relate to surviving and escaping Knee on Belly. If/when possible, Can will also be teaching these to his students.
The Operation Tattered Belt curriculum is based on Saulo Ribeiro's book Jiu Jitsu University and Roy Dean's Blue Belt Requirements app. The numbers refer to chapters in JJU; italics to BBR. This month, there is only Saulo, as BBR lacks KOB specific techniques.
December's Side Control Curriculum
5.0 Knee on Belly
9.0 Escaping Knee on Belly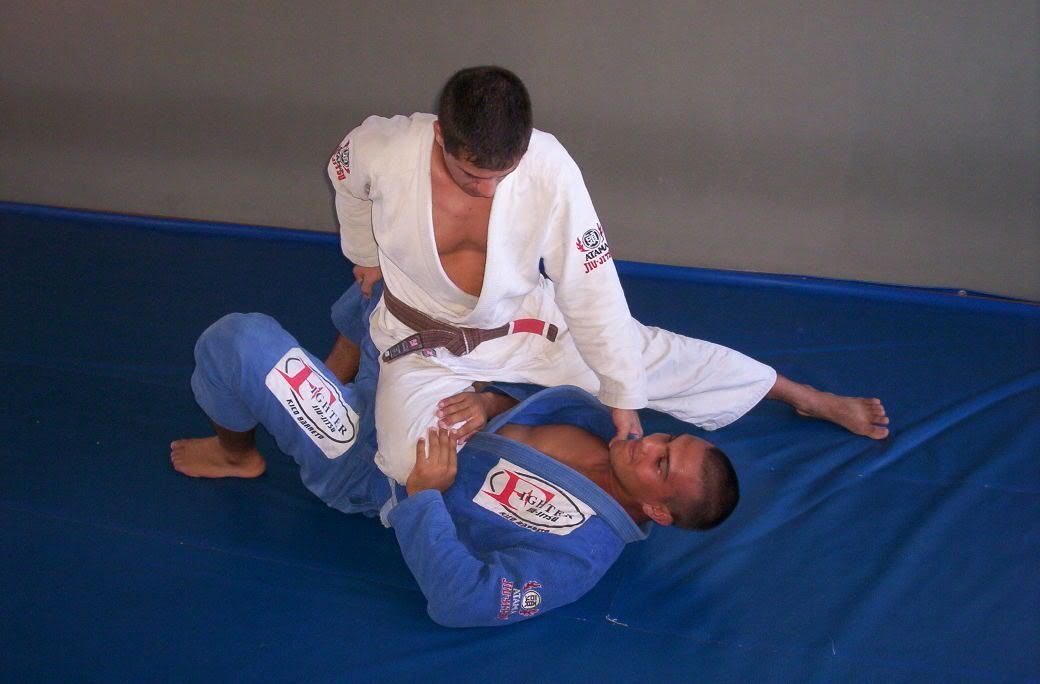 While other resources ARE useful, JJU and BBR are our main focus. But here's another Kurt Osiander video. The more I watch him, the more I love him. He's just so authentic.
[youtube=http://www.youtube.com/watch?v=ldUb-OEfg7o]
For December, we plan to do the following. You are welcome to join us for any/all/none of these:
Record our knee on belly escape techniques at the beginning and end of the month.
Assess our knee on belly methods at the beginning and end of the month.
Read chapters 5 and 9 in JJU and take notes.
Drill knee on belly prevention and escapes.
Focus on preventing knee on belly in sparring.
Watch for it either by way of Youtube or watching sparring during class.
This month there's only a single escape – which is a variation on the running escape. Meg and I discussed if this would be enough, and decided yes. With the holidays coming up, keeping it simple will be much better – and it gives us a chance to play catch up on techniques from last month that we wish to strengthen further.
Megan and I will also be chatting together every week to help support one another. Last month it was so useful for us – helping keep us on track, providing accountability, structure, and sharing insight.
Will you join us this month? How is your knee on belly prevention/escapes? Any common issues you have? If you have any favorite videos/resources on side escapes/survival, post them below! Please ONLY post ones you've personally found extremely helpful.