I have a fascination with matryoshkas, matroshkas, матрёшка, Russian stacking dolls or nesting dolls – whatever you fancy calling them, I'm a fan. I love the idea of what they represent – that Russian/Ukrainian aspect, symbolism, layers, hidden treasures, and their beauty. One of my next tattoos I have planned is a matryoshka.
Then I came across this image: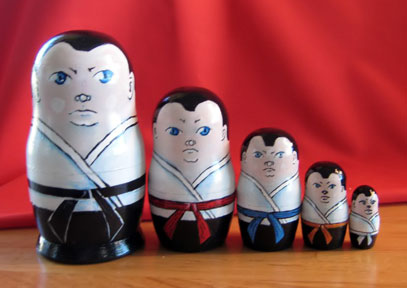 Seriously how cool is that idea. I am not much of an artist, so I'm more likely to commission something like this when I go back to Ukraine.
But then it got me thinking – which order would you have these in?
Little tiny white belt => big black belt
As you progress you get "bigger" – representing your growth and journey in Brazilian Jiu Jitsu. You grow in your journey from white belt to black belt, but regardless of where you are, inside us we all have a white belt and a starting point.
Little tiny black belt => big white belt
Representing that as you grow in BJJ, you become more and more elite. The white belt is biggest because that signifies that of all the belts, there are mostly white belts, and as you progress, your number of peers becomes smaller and smaller. It also holds the idea that as you progress, your space literally becomes smaller. What's that saying – the difference between a white belt and a black belt is 2 inches? And finally, that inside us all we have the potential to reach black belt if we dig deep enough and stay with it long enough.
So, which order would you stack them? Big black/little white, or big white/little black?